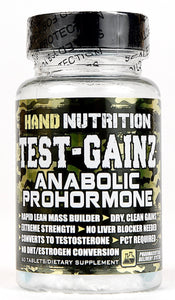 Directions: 
Take one pill in the morning and one around 10-12 hours later or before bed. Do not skip any days. Do not exceed 2 per day. Do not exceed an 8 week cycle. When you have 3 days left, start Hand Nutrition Testosterone Booster for post cycle therapy (PCT) along with Hand Nutrition post cycle therapy estrogen blocker. 


Anabolic Prohormone

Rapid Lean Mass Builder

Extreme Strength

Converts to Testosterone

No DHT/ Estrogen Conversion

Dry, Clean Gains

No Liver Blocker Needed 

PCT Required
WARNING: MAY PREVENT PREGNANCY. NOT RECOMMENDED TO TAKE WHILE TRYING TO CONCEIVE.